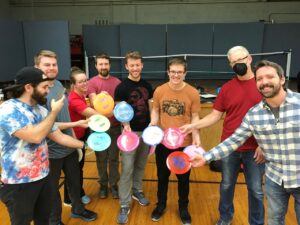 Week 5; Putting League Ended With Awarding Of 9 More Discs!
9 were discs given away as the 2022 fall putting league ended. With donations from Royce Racinowski of The Flying Disc Pro Shop (4), the Greater Rochester Disc Club (4) as well as a disc donated by Elise and Kyle Lieberman (1), we were able to give away 9 discs on week 5.  
Chip Draw Disc Winners:
Too many disc winners to list here in a space that is better used for thanking all of the people involved with making the Putting League fun and successful. A list of disc winners is noted on the League Totals page.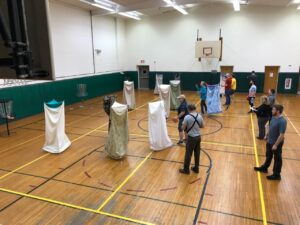 Nick Stewart and Colin Nobles brought high quality baskets each week so that the we did not have to use my lower quality, light weight baskets that are easy for me to transport but don't catch as well.  Elise and Kyle Lieberman brought a backstop net that stopped bunches of shots from invading the basket ball court floor below the stage.
Nick Stewart donated the Luna putter, Brett Chipman donated the Discmania MD2 putter and Elise and Kyle Lieberman donated a putter as well as bringing ginger snap cookies for all on holiday putting, Week 5.
I want to thank all of you for contributing to the fun and success of the putting league. You all came with the "lets all have some fun" attitude and your help transporting, assembling baskets, obstacles and then disassembling and transport at the end of the night is key to the league working. Thank you!
League Total Points: Top 12 Rounds (4 weeks).
The points for a player's top 12 scores (from any 4 weeks) are used for the point totals on the leader board. If a player attended all 5 weeks the lowest 3 scores will be dropped. If a player attended 4 weeks or less, all of their round scores will be use for the leader board.
The scores for week 5 have been posted. Click the following link to View League Totals.