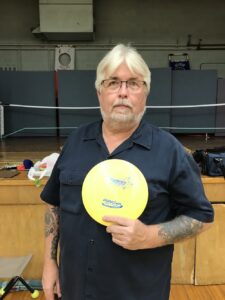 Week 1, A Smooth Operation!
I want to thank everyone for helping with the setup, tear down, and transport of the equipment. I would not be able to run the putting league without your assistance. It went smoothly and allowed us the extra time we needed to have the "Ace Run" challenge after round #3 and give away a second disc.
Flying Disc Pro Shop Chip Draw Disc Winner.
Week 1: Ron Shamp won the chip draw and chose a yellow Innova Star Sidewinder provided by Royce Racinowski of The Flying Disc Pro Shop.
GRDGC Putting Challenge for Week 1: Ace Run
We had enough time after putting round #3 to do a challenge. The putting challenge was "Ace Run". In the first round, no one aced. In the second round, Elise Liberman found the chains to claim a red Star Sidewinder donated by the Greater Rochester Disc Golf Club.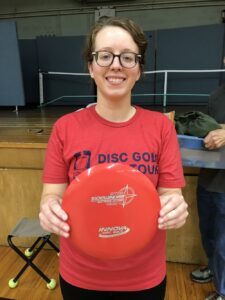 Thank You For Bringing The Good Equipment!
Nick Stewart brought a high-quality basket this week so that we did not have to use one of my lower-quality, lightweight baskets that are easy for me to transport but don't catch as well.  Elise and Kyle Lieberman brought a backstop net that stopped errant shots from invading the floor below the stage.
League Total Points: Top 12 Rounds (4 weeks).
The points for a player's top 12 scores (from any 4 weeks) are used for the point totals on the leaderboard. If a player attended all 5 weeks the lowest 3 scores will be dropped. If a player attended 4 weeks or less, all of their round scores will be used for the leaderboard.
The scores for week 1 have been posted. Click the following link to View League Totals.