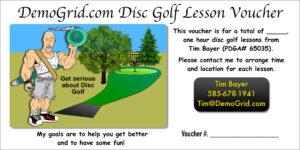 Give the gift of golf!
DemoGrid Gift Certificates are available. Contact me for more information.
Introduction to Disc Golf
If you are new to disc golf, I can teach you the fundamentals from the ground up. I will cover techniques such as the proper throwing form, driving, approach shots, putting, and basic rules of gameplay.

Diving, Midrange, Putting: Improving at Disc Golf
If you already play, I can improve your ability on any of these topics:
Backhand throw: Proper stance, balance, reach back and pull through

(eliminate rounding!).

Hyser and

anhyzer throws.

Driving with more distance and accuracy.

Forehand throws.

Midrange shots.

Putting with accuracy, short and long distance.
Backhand rollers, forehand rollers.

Thumber and hammer throws.

2021 Zephyr World Championships (photo by Dave Cox)

Putting: Proper stance, balance and follow through.

Straddle putting.

Push putting or spin putting.
Hyzer putting and Anhyser putting.
Increase putting accuracy for long distance putting, 20 feet and farther out.
Jump putts.
Driving Distance: Improving form improves distance
If you already play but need more distance, I can analyze your form and identify issues. The most common problem is "rounding". Eliminating rounding will improve BOTH distance and accuracy.
My Background
I have developed and taught a number of disc golf classes through the Parks And Recreation departments at Penfield, Victor, Henrietta and Brighton. I developed and run the only 18 hole indoor disc golf putting league in Rochester for which I designed and created portable obstacles. Before disc golf, I have many years of teaching sports: I worked for 15 years as a professional ski instructor, as well as teaching baseball, basketball, volleyball and mountain biking.
Lessons at per hour rate
I offer individual and group Disc Golf lessons. I charge $40.00 per hour for lessons for a group of 4 or less. Perhaps get a group of friends, combine funds (to split the $40), and have some fun throwing discs while you all get better.
Testimonials
"A big thumbs up to Tim Bayer. Myself, William A. Downing and Matthew Cole just had a great group lesson. We had a blast and he is a great instructor. Highly recommended. Now, I gotta work on those bad habits! (And there are a few.)"
– John Thompson
"I agree, he is a great instructor!!"
– Kris Winter
"Tim is , 'The Man!!'"
– William A. O'Dell, PDGA# 188