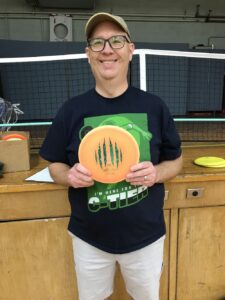 Week 3, Another Challenging Week
The hole designers for week 3 were creative.
The "double-fan-updraft" for station #2 blew otherwise good putts into bad putts if you thew a fluttering putt or did not account for the air bounce at the 1/2 way point of the disc flight.
Waiting as you departed #2 was hole #3. #3 included a tee with a partial tunnel shot and other tee spots that encouraged a hyzer or anhyzer putt to be successful.
Well done to the hole designers (and you know who you are) to come up with unique and interesting challenges!
Flying Disc Pro Shop Chip Draw Disc Winner.
Royce Racinowski of The Flying Disc Pro Shop provided discs available for the chip draw winner each week.
Week 1: Ron Shamp won the chip draw and chose a yellow Innova Star Sidewinder.
Week 2: Kevin Schlegel won the chip draw and instead of choosing a disc, he chose a DemoGrid UV flashlight.
Week 3: Ken Crumpler won the chip draw and chose an orange Athena.
Putting Challenge: "Twice Over The Top" had 4 prizes!
There were 4 prizes given away for the putting challenge thanks to donations by:
Jim Palmeri: donated 2, "Chain Of Events" books.
John Kelly donated a disc.
Nick Stewart donated a discraft Luna disc.
The putting challenge was "Twice Over The Top", requiring players to throw both putts over the top of the obstacles, followed by an additional round of traditional putting from a short tee and a longer tee.
There were 4 winners for the challenge thanks to donations noted above by Jim, John, and Nick. The winners were:
John Kelly (Luna Putter)
Jeff Hermenet (Chain of Events book)
Heather Schlegel (Orange Sidewinder)
Tyler Clark (Chain of Events book)

Thank You For Bringing The Good Equipment!
Dave and Jen Copp brought a high-quality basket, and so did Nick Stewart. With those baskets, we did not have to use two of my lower-quality, lightweight baskets that are easy for me to transport but don't catch as well.  Kyle Lieberman brought a backstop net that stopped errant shots from invading the floor below the stage.
League Total Points: Top 12 Rounds (from any 4 weeks).
The points for a player's top 12 scores (from any 4 weeks) are used for the point totals on the leaderboard. If a player attended all 5 weeks the lowest 3 scores will be dropped. If a player attended 4 weeks (12 rounds or less), all of their round scores will be used for the leaderboard.
The scores have been posted. Click the following link to View League Totals.