Results for Week 2; November 22, 2022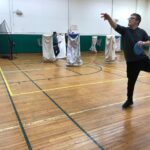 A Challenging Course.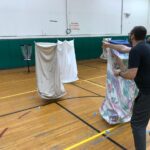 Kudos to the hole designers this week as it was both entertaining and challenging. The putting layouts this week were more challenging than Week 1 as reflected in lower point totals across the board: No team scored more than 80 points on any round. The layouts required a number of straddle putts and the strategic placement of obstacles tested everyone.
If you made some putts this week – Well done!
As usual, the little basket of hate in the hall claimed more victims. The people in the gym may not have been aware of your pain because, … in the hall, no one can hear you scream …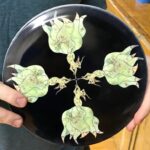 Chip Draw Disc Winners.
The discs for the chip draw are provided by Royce Racinowski of The Flying Disc Pro Shop.
Week 1: Danny Bevona won the chip draw and chose the white putter provided by Elise and Kyle Lieberman. Thank you Elise and Kyle!
Week 2: Connor O'Neil drew the winning chip and claimed the custom dyed disc.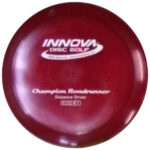 Putting Challenge for Week 2:
The putting challenge, Short Slide, Long Slide, was won by Patrick Davis who selected the Road Runner.
League Total Points: Top 12 Rounds (4 weeks).
The points for a player's top 12 rounds (from any 4 weeks) are used for the point totals on the leader board. If a player attended all 5 weeks the lowest 3 round totals will be dropped. If a player attended 4 weeks or less, all of their round points will be use for the leader board.
Click following link to View League Totals.