Results for Week 1; November 15, 2022
Week 1 Success!
Even though we had a shortened time slot because of the scheduling overlap, week 1 was a success. I want to thank everyone for helping with the set up, tear down and transport of the equipment. I would not be able to run the putting league without your assistance.
Redesigned Obstacles Worked.
The redesigned obstacles appeared to be an improvement as the set up and tear down seemed to be both easier and faster than last year.
Flying Disc Pro Shop Chip Draw Disc Winners.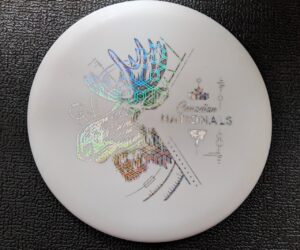 Week 1: Danny Bevona won the chip draw and chose the white putter provided by Elise and Kyle Lieberman. Thank you Elise and Kyle!
Putting Challenge for Week 2:
Because the Lieberman's donated a disc prize for week 1, for week two we can give away 2 discs from our sponsor,  Royce Racinowski of The Flying Disc Pro Shop. One for the chip draw. Then, after we finish round 3, we can do a putting challenge and give away a 2nd disc.
League Total Points: Top 12 Rounds (4 weeks).
The points for a player's top 12 rounds (from any 4 weeks) are used for the point totals on the leader board. If a player attended all 5 weeks the lowest 3 round totals will be dropped. If a player attended 4 weeks or less, all of their round points will be use for the leader board.
Click following link to View League Totals.