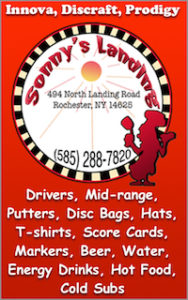 Results for Week 5; 12/18/18
Sonny's Landing Chip Draw, Disc Winner, Book Winner:
The chip draw, disc winner for this week was Pat Mehls. The winner of the, "Lay Up – Step Up", competition for the book, "A CHAIN OF EVENTS — The Origin & Evolution of Disc Golf", was Joe Tascione.
Disc Draw Winner List
Week 5: Pat Mehls
Week 4: Howard Dworsky
Week 3: Janet Cranshaw
Week 2: David Copp
Week 1: Kevin Palmeri
Trial Week: Kris Winter
Disc For Top League Scores
The top 3 scores for folks that did not previously win a chip draw disc are, Mike Herzog, Jake Hart-Predmore, Anthony LaRocca.
Our Sponsors – Thank You!
* Royce Racinowski
* Sonny's Landing
* Jim Palmeri
* Sherry Herzog.
Royce Racinowski, Sonny's Landing provided a stack of discs to choose for the weekly disc draw winner and for top 3 league point totals. Because of you, 8 different people got brand new discs during the league!
Jim Palmeri, donated a LOT of books – I lost count of the number, and Jim was more than happy to sign them. Way to go PDGA Hall Of Famer, #23! Thank you!
Sherry Herzog provided women only prizes for the league. Thank you for your effort to open the door for more women to play Disc Golf. Look up Sherry for information on the Women's Disc Golf League.
Cookies and Treats!
Thank you to all who brought cookies and treats for the final league night. It was a wonderful holiday treat! I was a little distracted on some putts with all the treats calling out to me, 🙂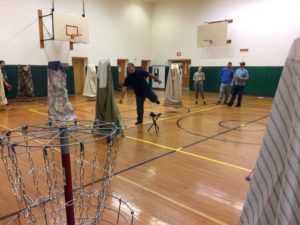 League Total Points
Click following link to View Week 5 League Totals.
Scoring Data
Click links below to view: