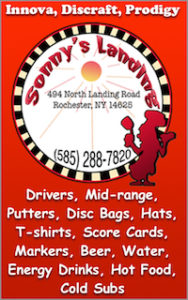 Results for Week 4; 12/11/18
Sonny's Landing Chip Draw, Disc Winner:
The chip draw, disc winner for this week was Howard Dworsky. The winner of the Innova calendar for the, "Lay Up – Step Up", competition was Joe Tascione.
Disc Draw Winner List
Week 4: Howard Dworsky
Week 3: Janet Cranshaw
Week 2: David Copp
Week 1: Kevin Palmeri
Trial Week: Kris Winter
The Most Difficult Week
Well done! … in a sadistic way … The hole designers proved that they can make people miss putts. Ouch! This week had the most difficult putts of the season. Not the least of which was my design for the stage-to-floor basket (#2) which, seemed to me like a good idea at design time, but translated into a lot of missed points. My apologies to all. … And then there was the Tunnel Putt … If you had nightmares last night after Putting League, you may not want to look at the picture I added below.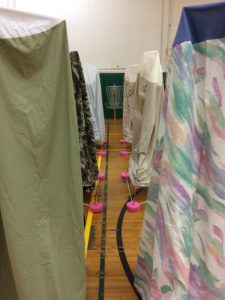 League Total Points
Click following link to View Week 4 League Totals.
Scoring Data
Click links below to view: