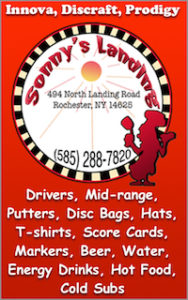 Results for Week 2; 11/27/18
Sonny's Landing Chip Draw, Disc Voucher Winner:
The chip draw, disc winner for this week was David Copp.
Disc Draw Winner List
Week 2: David Copp
Week 1: Kevin Palmeri
Trial Week: Kris Winter
Bringing The Pain!
The hole designers brought the pain this week with more interesting and challenging configurations. Nice work!
For Basket-2, the putt from the stage to the floor, was made more difficult this week when the designer added an obstacle that completely obscured all but the right most side of the basket when throwing from Tee-3. The tee-3 position required throwing a putt that had to fly right to left to score.
The counter to Basket-2, Tee-3 was Basket-5, Tee-3. The designer of this hole had obstacles blocking the right hand hyzer line, thus requiring a left to right flying putt to find chains.
New, Upgraded Statistic Format
I created a new, automated scoring system that displays each put thrown by each player. Putts that are missed are blank, made putts have check mark.
The league totals and Week-2 statistics are below.
League Total Points
Click following link to View League Totals.
Week 2 Scoring Data
Click links below to view: