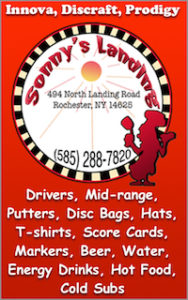 Results for Week 1; 11/20/18
Sonny's Landing Chip Draw, Disc Voucher Winner:
The chip draw, disc winner for this week was Kevin Palmeri.
Disc Draw Winner List
Week 1: Kevin Palmeri
Trial Week: Kris Winter
3 Rounds Per Week!
Thank you to all for helping set up, take down and transport all of the equipment. The putting league with 18 Holes and obstacles would not work without your help. I estimated that we would only be able to play 2 rounds per week. However, since you all have been so efficient in those tasks, we are able to play 3 complete rounds of 18 holes each week. Well done!
The league statistics are below.
League Total Points
| | | | | | | |
| --- | --- | --- | --- | --- | --- | --- |
| Player# | Name | R1 | R2 | R3 | | Total Points |
| 15 | Kyle Lieberman | 102 | 81 | 74 | | 257 |
| 11 | Sam Giovino | 84 | 75 | 85 | | 244 |
| 16 | Conor McKaig | 84 | 76 | 79 | | 239 |
| 2 | Mike Herzog | 72 | 87 | 79 | | 238 |
| 1 | Dave Copp | 102 | 63 | 72 | | 237 |
| 18 | Kevin Palmeri | 76 | 76 | 82 | | 234 |
| 12 | Jake Hart-Predmore | 83 | 65 | 77 | | 225 |
| 20 | Joe Tascione | 71 | 87 | 61 | | 219 |
| 19 | Jim Palmeri | 58 | 81 | 74 | | 213 |
| 5 | Dan Dancoe | 71 | 64 | 77 | | 212 |
| 17 | Pat Mehls | 61 | 62 | 85 | | 208 |
| 14 | Anthony LaRocca | 61 | 75 | 67 | | 203 |
| 9 | Pete Evinsky | 83 | 64 | 54 | | 201 |
| 22 | Kris Winter | 72 | 46 | 82 | | 200 |
| 23 | Max Herzog | 76 | 65 | 54 | | 195 |
| 10 | Paul Fromm | 58 | 62 | 61 | | 181 |
| 13 | Jeanne Johnson | 45 | 63 | 72 | | 180 |
| 3 | Sherry Herzog | 61 | 46 | 67 | | 174 |
| 4 | Janet Cranshaw | 61 | 44 | 51 | | 156 |
| 24 | Tim Bayer | 56 | 46 | 48 | | 150 |
| 25 | MULLI-MAN-1 | 56 | 46 | 48 | | 150 |
| 21 | Elise Wilkin | 45 | 44 | 51 | | 140 |
| 6 | Lisa Delaparte | 0 | 0 | 0 | | 0 |
| 7 | Howard Dworsky | 0 | 0 | 0 | | 0 |
| 8 | Jonah Dworsky | 0 | 0 | 0 | | 0 |
| 26 | MULLI-MAN-2 | 0 | 0 | 0 | | 0 |
Round 1 Points
| | | | |
| --- | --- | --- | --- |
| Player# | Player Name | Individual Score | Team Score |
| 1 | Dave Copp | 44 | 102 |
| 2 | Mike Herzog | 47 | 72 |
| 3 | Sherry Herzog | 14 | 61 |
| 4 | Janet Cranshaw | 14 | 61 |
| 5 | Dan Dancoe | 38 | 71 |
| 6 | Lisa Delaparte | 0 | 0 |
| 7 | Howard Dworsky | 0 | 0 |
| 8 | Jonah Dworsky | 0 | 0 |
| 9 | Pete Evinsky | 38 | 83 |
| 10 | Paul Fromm | 32 | 58 |
| 11 | Sam Giovino | 47 | 84 |
| 12 | Jake Hart-Predmore | 45 | 83 |
| 13 | Jeanne Johnson | 28 | 45 |
| 14 | Anthony LaRocca | 47 | 61 |
| 15 | Kyle Lieberman | 58 | 102 |
| 16 | Conor McKaig | 37 | 84 |
| 17 | Pat Mehls | 47 | 61 |
| 18 | Kevin Palmeri | 46 | 76 |
| 19 | Jim Palmeri | 26 | 58 |
| 20 | Joe Tascione | 33 | 71 |
| 21 | Elise Wilkin | 17 | 45 |
| 22 | Kris Winter | 25 | 72 |
| 23 | Max Herzog | 30 | 76 |
| 24 | Tim Bayer | 56 | 56 |
| 25 | MULLI-MAN-1 | 0 | 56 |
| 26 | MULLI-MAN-2 | 0 | 0 |
Round 2 Points
| | | | |
| --- | --- | --- | --- |
| Player# | Player Name | Individual Score | Team Score |
| 1 | Dave Copp | 39 | 63 |
| 2 | Mike Herzog | 53 | 87 |
| 3 | Sherry Herzog | 24 | 46 |
| 4 | Janet Cranshaw | 25 | 44 |
| 5 | Dan Dancoe | 37 | 64 |
| 6 | Lisa Delaparte | 0 | 0 |
| 7 | Howard Dworsky | 0 | 0 |
| 8 | Jonah Dworsky | 0 | 0 |
| 9 | Pete Evinsky | 27 | 64 |
| 10 | Paul Fromm | 29 | 62 |
| 11 | Sam Giovino | 31 | 75 |
| 12 | Jake Hart-Predmore | 38 | 65 |
| 13 | Jeanne Johnson | 24 | 63 |
| 14 | Anthony LaRocca | 44 | 75 |
| 15 | Kyle Lieberman | 52 | 81 |
| 16 | Conor McKaig | 32 | 76 |
| 17 | Pat Mehls | 33 | 62 |
| 18 | Kevin Palmeri | 44 | 76 |
| 19 | Jim Palmeri | 29 | 81 |
| 20 | Joe Tascione | 34 | 87 |
| 21 | Elise Wilkin | 19 | 44 |
| 22 | Kris Winter | 22 | 46 |
| 23 | Max Herzog | 27 | 65 |
| 24 | Tim Bayer | 46 | 46 |
| 25 | MULLI-MAN-1 | 0 | 46 |
| 26 | MULLI-MAN-2 | | 0 |
Round 3 Points
| | | | |
| --- | --- | --- | --- |
| Player# | Player Name | Indvidual Score | Team Score |
| 1 | Dave Copp | 39 | 72 |
| 2 | Mike Herzog | 48 | 79 |
| 3 | Sherry Herzog | 35 | 67 |
| 4 | Janet Cranshaw | 30 | 51 |
| 5 | Dan Dancoe | 41 | 77 |
| 6 | Lisa Delaparte | 0 | 0 |
| 7 | Howard Dworsky | 0 | 0 |
| 8 | Jonah Dworsky | 0 | 0 |
| 9 | Pete Evinsky | 29 | 54 |
| 10 | Paul Fromm | 23 | 61 |
| 11 | Sam Giovino | 47 | 85 |
| 12 | Jake Hart-Predmore | 36 | 77 |
| 13 | Jeanne Johnson | 33 | 72 |
| 14 | Anthony LaRocca | 32 | 67 |
| 15 | Kyle Lieberman | 42 | 74 |
| 16 | Conor McKaig | 31 | 79 |
| 17 | Pat Mehls | 38 | 85 |
| 18 | Kevin Palmeri | 48 | 82 |
| 19 | Jim Palmeri | 32 | 74 |
| 20 | Joe Tascione | 38 | 61 |
| 21 | Elise Wilkin | 21 | 51 |
| 22 | Kris Winter | 34 | 82 |
| 23 | Max Herzog | 25 | 54 |
| 24 | Tim Bayer | 48 | 48 |
| 25 | MULLI-MAN-1 | | 48 |
| 26 | MULLI-MAN-2 | | 0 |