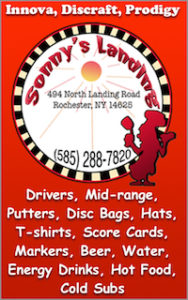 Putting League Scoring Description
Summary:
First putt (#1) and last putt (#6) at a distance earn more points.
Making all 6 putts at a distance earns a bonus.
Longest distance putts are highest value.
Long Description:
Points Increase With Distance Of Putt
Each successfully made putt has point value noted in the chart below. The farther the distance the higher the point value.
Bonus For First Putt And Last Putt At A Distance
First and last putts also earn bonus points, 5 points each attempt for each of the first four tiers and 10 points in the final two tiers.
Bonus For Making All 6 Putts At A Distance
Completing all six putts from a tier earns an additional bonus equal to the distance. A putting league scoring chart is shown below: