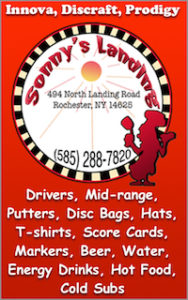 Week 2, 1/25/18, Round With Obstacles
This week Dave Copp brought the pain with his tree placement on the Obstacles Round. As a direct result, the Obstacle Round scores were lower and a number of trees were killed and then resurrected. It was entertaining.
Low branch / high bush obstacle
Next week the obstacle round will in include a "low branch / high bush" obstacle. To navigate this obstacle, at one tier you will have to throw under the obstacle. At later tier you will have to throw over the obstacle.
The team scores (With Obstacles):
Dave Copp & Mark Anderson: 615
Steve Silberman & Scott Wagner: 485
Sherry Herzog & Mike Herzog: 760
Joe Tascione & Dan Dancoe: 615
NOTE: The team scores are used for the League Point Totals. There is a link to the League Point Totals at the bottom of the post.
Individual scores:
Dave Copp
10′
✔
✔
✔
✔
✔
✔
80
15′
✔
✔
✔
✔
65
20′
✔
✔
✔
✔
✔
105
25′
✔
✔
50
30′
✔
✔
80
35′
0
Total
380
Sherry Herzog
10′
✔
✔
✔
✔
✔
60
15′
✔
✔
✔
45
20′
✔
✔
✔
✔
✔
105
25′
✔
✔
✔
80
30′
✔
✔
60
35′
0
Total
350
Mike Herzog
10′
✔
✔
✔
✔
✔
✔
80
15′
✔
✔
✔
✔
✔
80
20′
✔
✔
✔
✔
85
25′
✔
25
30′
0
35′
✔
✔
✔
✔
140
Total
410
Mark Anderson
10′
✔
✔
✔
40
15′
✔
✔
30
20′
✔
✔
✔
✔
✔
105
25′
✔
30
30′
✔
30
35′
0
Total
235
Scott Wagner
10′
✔
15
15′
✔
✔
40
20′
✔
✔
✔
65
25′
✔
✔
55
30′
0
35′
0
Total
175
Dan Dancoe
10′
✔
✔
✔
30
15′
✔
✔
✔
50
20′
✔
20
25′
✔
✔
✔
75
30′
✔
✔
70
35′
✔
45
Total
290
Steve Silberman
10′
✔
✔
✔
✔
45
15′
✔
✔
✔
✔
✔
✔
115
20′
✔
✔
40
25′
✔
✔
50
30′
✔
✔
60
35′
0
Total
310
Tara Dixon
10′
0
15′
0
20′
0
25′
0
30′
0
35′
0
Total
0
Joe Tascione
10′
✔
✔
✔
✔
✔
✔
80
15′
✔
✔
✔
✔
✔
80
20′
✔
✔
✔
✔
85
25′
✔
✔
✔
80
30′
0
35′
0
Total
325
Tim Bayer
10′
✔
✔
✔
✔
✔
✔
80
15′
✔
✔
✔
✔
✔
✔
115
20′
✔
✔
✔
✔
✔
105
25′
✔
✔
✔
✔
✔
135
30′
✔
30
35′
0
Total
465
League High Scores
| Rank | Name | Date | Score |
| --- | --- | --- | --- |
| 1. | Tim Bayer | Jan 26, 2018, 7:36 AM | 760 |
| 2. | Mike Herzog | Jan 19, 2018, 8:47 AM | 665 |
| 3. | Tim Bayer | Jan 19, 2018, 8:47 AM | 665 |
| 4. | Mike Herzog | Jan 26, 2018, 7:36 AM | 660 |
| 5. | Dave Copp | Jan 26, 2018, 7:36 AM | 560 |
| 6. | Tim Bayer | Jan 19, 2018, 10:53 AM | 545 |
| 7. | Mike Herzog | Jan 19, 2018, 10:53 AM | 525 |
| 8. | Dave Copp | Jan 19, 2018, 10:53 AM | 490 |
| 9. | Dan Dancoe | Jan 19, 2018, 10:53 AM | 480 |
| 10. | Dave Copp | Jan 19, 2018, 8:47 AM | 470 |
| 11. | Tim Bayer | Jan 26, 2018, 8:15 AM | 465 |
| 12. | Joe Tascione | Jan 26, 2018, 7:36 AM | 460 |
| 13. | Mike Herzog | Jan 26, 2018, 8:15 AM | 410 |
| 14. | Sherry Herzog | Jan 26, 2018, 7:36 AM | 390 |
| 15. | Joe Tascione | Jan 19, 2018, 8:47 AM | 385 |
| 16. | Dave Copp | Jan 26, 2018, 8:15 AM | 380 |
| 17. | Dan Dancoe | Jan 19, 2018, 8:47 AM | 365 |
| 18. | Sherry Herzog | Jan 26, 2018, 8:15 AM | 350 |
| 19. | Joe Tascione | Jan 26, 2018, 8:15 AM | 325 |
| 20. | Sherry Herzog | Jan 19, 2018, 8:47 AM | 315 |
League Point Totals