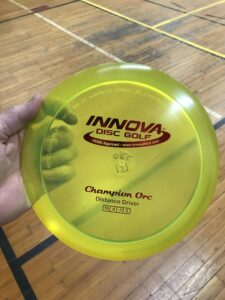 Results for Week 4; November 30, 2021
Challenging Putts!
There have been very creative hole layouts this season. Kudos to you folks for your ingenuity. The unusual challenges this week included the upward blowing fan in front of the basket on hole #2, the "throw over the top" putt for tee #2 on basket #3 and the Over/Under on #5. The grumpy little basket of hate in the hallway still hates everyone equally – Don't take it personally.  If you had a tough week — so did a lot of others. No team reached the 100 point total for any round this week.
Flying Disc Pro Shop Chip Draw Disc Winners.
Week 1: Jim Palmeri, chose an orange Innova Champion Corvette from Royce Racinowski of The Flying Disc Pro Shop.
Week 2: Brett Chipman, chose a disc from Lina's on Landing.
Week 3: Ryan Caferra, chose a purple Discraft Sol from Royce Racinowski of The Flying Disc Pro Shop.
Week 4: Elise Lieberman, chose a yellow Innova Orc from Royce Racinowski of The Flying Disc Pro Shop.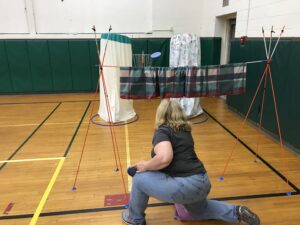 Putting Challenge: Ran out of time. Oops.
Unfortunately, I underestimated the time needed for the "Roll and Putt" challenge, so we had to end the challenge before there was a winner. We can do a different putting challenge on week #5.
League Total Points: Top 12 Rounds (4 weeks).
The points for a player's top 12 rounds (from any 4 weeks) are used for the point totals on the leader board. If a player attended all 5 weeks the lowest 3 round totals will be dropped. If a player attended 4 weeks or less, all of their round points will be use for the leader board. Therefore, next week, week #5, will be "Moving Day", because some players lower on the leader board have not had 12 rounds of points used for their total points.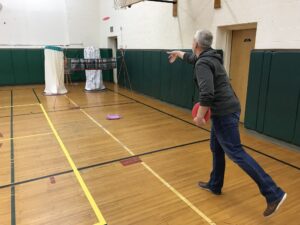 Click following link to View League Totals.
Scoring Data
Click links below to view: