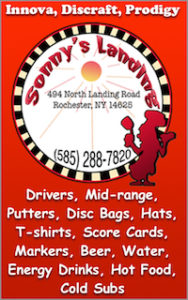 Results for Week 5; February 21, 2019
Sonny's Landing Disc Winner: Kyle Lieberman
This week, instead of a chip draw, we used 2 baskets for a double putt challenge. Players had to make putts on both baskets to move to the next round. The distance was increased each round. The 2-putt disc winner for this week was Kyle Lieberman.
Disc Draw Winner List
Week 5: Kyle Liebermanim
Week 4: Jim Palmeri
Week 3: Ben Drogue
Week 2: Joe Radwan
Week 1: Kris Winter
Disc For Top League Scores
Discs were awarded for the players with the top 3 scores that did not previously win a chip draw disc during the league. The disc winners are, Mike Herzog, Sherry Herzog and Kyle Freberg.
Our Sponsors – Thank You!
* Royce Racinowski
* Sonny's Landing

Royce Racinowski and Sonny's Landing provided 2 winter hats and a stack of discs to choose for the weekly disc draw winner and for top 3 league point totals. Because of you, 8 different people got brand new discs during the league!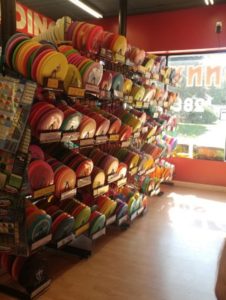 League Total Points
Click following link to View League Totals.
Scoring Data
Click links below to view: