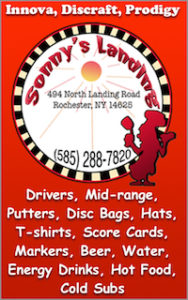 Week 4, 2/8/18, Round With Clear Lanes
Sonny's Landing Chip Draw, Disc Voucher Winners:
Week 4: Sherry Herzog
Week 3: Dan Dancoe
Week 2: Scott Wagner
Week 1: Dave Copp
Take the disc voucher to Sonny's Landing and exchange it for ANY disc on the racks in the store.
The team scores (Clear Lanes):
Dave Copp & Joe Tascione: 705
Mike Herzog & Steve Silberman: 825
Dan Dancoe & Sherry Herzog: 700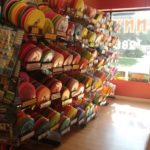 NOTE: The team scores are used for the League Point Totals. There is a link to the League Point Totals at the bottom of the post.
Individual scores:
Dave Copp
10′
✔
✔
✔
✔
✔
60
15′
✔
✔
✔
✔
70
20′
✔
✔
✔
70
25′
✔
✔
✔
80
30′
✔
✔
80
35′
✔
35
Total
395
Sherry Herzog
10′
✔
✔
✔
✔
✔
✔
80
15′
✔
✔
✔
✔
✔
80
20′
✔
✔
45
25′
✔
30
30′
✔
✔
✔
100
35′
0
Total
335
Mike Herzog
10′
✔
✔
✔
✔
✔
✔
80
15′
✔
✔
✔
✔
✔
80
20′
✔
✔
✔
✔
✔
✔
150
25′
✔
✔
✔
✔
✔
135
30′
✔
30
35′
✔
35
Total
510
Mark Anderson
10′
0
15′
0
20′
0
25′
0
30′
0
35′
0
Total
0
Scott Wager
10′
0
15′
0
20′
0
25′
0
30′
0
35′
0
Total
0
Dan Dancoe
10′
✔
✔
✔
✔
50
15′
✔
✔
✔
✔
✔
85
20′
✔
✔
✔
✔
✔
105
25′
✔
✔
55
30′
✔
✔
70
35′
0
Total
365
Steve Silberman
10′
✔
✔
✔
✔
✔
60
15′
✔
✔
✔
✔
✔
85
20′
✔
✔
✔
✔
✔
110
25′
✔
30
30′
✔
30
35′
0
Total
315
Tara Dixon
10′
0
15′
0
20′
0
25′
0
30′
0
35′
0
Total
0
Joe Tascione
10′
✔
✔
✔
✔
50
15′
✔
✔
✔
✔
70
20′
✔
✔
✔
70
25′
✔
25
30′
✔
✔
60
35′
✔
35
Total
310
Tim Bayer
10′
✔
✔
✔
✔
✔
✔
80
15′
✔
✔
✔
✔
✔
✔
115
20′
✔
✔
✔
✔
✔
✔
150
25′
✔
✔
✔
✔
✔
135
30′
✔
✔
✔
110
35′
✔
✔
✔
✔
✔
195
Total
785
League High Scores
| Rank | Name | Date | Score |
| --- | --- | --- | --- |
| 1. | Tim Bayer | Feb 9, 2018, 6:19 AM | 785 |
| 2. | Tim Bayer | Jan 26, 2018, 7:36 AM | 760 |
| 3. | Tim Bayer | Feb 9, 2018, 6:03 AM | 690 |
| 4. | Mike Herzog | Jan 19, 2018, 8:47 AM | 665 |
| 5. | Tim Bayer | Jan 19, 2018, 8:47 AM | 665 |
| 6. | Mike Herzog | Jan 26, 2018, 7:36 AM | 660 |
| 7. | Tim Bayer | Feb 2, 2018, 9:01 AM | 650 |
| 8. | Mike Herzog | Feb 9, 2018, 6:03 AM | 620 |
| 9. | Dave Copp | Feb 9, 2018, 6:03 AM | 590 |
| 10. | Dave Copp | Feb 2, 2018, 9:01 AM | 570 |
| 11. | Dave Copp | Jan 26, 2018, 7:36 AM | 560 |
| 12. | Tim Bayer | Jan 19, 2018, 10:53 AM | 545 |
| 13. | Mike Herzog | Feb 2, 2018, 9:01 AM | 545 |
| 14. | Mike Herzog | Jan 19, 2018, 10:53 AM | 525 |
| 15. | Tim Bayer | Feb 2, 2018, 8:43 AM | 525 |
| 16. | Mike Herzog | Feb 9, 2018, 6:19 AM | 510 |
| 17. | Dave Copp | Jan 19, 2018, 10:53 AM | 490 |
| 18. | Joe Tascione | Feb 2, 2018, 9:01 AM | 485 |
| 19. | Dan Dancoe | Jan 19, 2018, 10:53 AM | 480 |
| 20. | Dave Copp | Jan 19, 2018, 8:47 AM | 470 |
League Point Totals