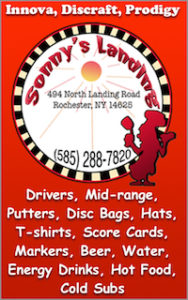 Week 3, 2/1/18, Round With Clear Lanes
Sonny's Landing Chip Draw, Disc Voucher Winners:
Week 3: Dan Dancoe
Week 2: Scott Wagner
Week 1: Dave Copp
Take the disc voucher to Sonny's Landing and exchange it for ANY disc on the racks in the store.
Next Week: Maybe Extra Round of Forehand Putts?
Because everyone has been helping with the setup and tear down, we have had some extra time after 2 rounds of putting. If we have extra time next week, and just for grins and giggles, I would like do a round where everyone must throw ONLY forehand putts. This could be both instructive and entertaining, as I expect there will be an abundance of errant putts.
The team scores (Clear Lanes):
Mark Anderson & Joe Tascione: 845
Mike Herzog & Dave Copp: 1,115
Dan Dancoe & Sherry Herzog: 730
Steve Silberman & Scott Wagner: 310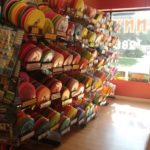 NOTE: The team scores are used for the League Point Totals. There is a link to the League Point Totals at the bottom of the post.
Individual scores:
Dave Copp
10′
✔
✔
✔
✔
✔
60
15′
✔
✔
✔
50
20′
✔
✔
✔
✔
✔
✔
150
25′
✔
✔
✔
✔
✔
130
30′
✔
✔
✔
100
35′
✔
✔
80
Total
570
Sherry Herzog
10′
✔
✔
✔
✔
✔
60
15′
✔
✔
✔
50
20′
✔
✔
✔
✔
✔
110
25′
✔
✔
50
30′
✔
30
35′
✔
35
Total
335
Mike Herzog
10′
✔
✔
✔
✔
✔
✔
80
15′
✔
✔
✔
✔
✔
✔
115
20′
✔
✔
✔
✔
✔
✔
150
25′
✔
30
30′
✔
✔
✔
100
35′
✔
✔
70
Total
545
Mark Anderson
10′
✔
✔
✔
✔
✔
60
15′
✔
✔
✔
✔
65
20′
✔
✔
✔
✔
85
25′
0
30′
✔
✔
70
35′
✔
✔
80
Total
360
Scott Wagner
10′
✔
15
15′
✔
15
20′
✔
20
25′
0
30′
✔
40
35′
0
Total
90
Dan Dancoe
10′
✔
✔
✔
✔
✔
✔
80
15′
✔
✔
✔
✔
✔
85
20′
✔
✔
✔
✔
85
25′
✔
✔
✔
80
30′
✔
30
35′
✔
35
Total
395
Steve Silberman
10′
✔
✔
✔
✔
✔
60
15′
✔
✔
✔
✔
65
20′
✔
✔
40
25′
✔
✔
55
30′
0
35′
0
Total
220
Tara Dixon
10′
0
15′
0
20′
0
25′
0
30′
0
35′
0
Total
0
Joe Tascione
10′
✔
✔
✔
✔
✔
60
15′
✔
✔
✔
✔
65
20′
✔
✔
✔
✔
✔
✔
150
25′
✔
✔
✔
✔
105
30′
✔
✔
70
35′
✔
35
Total
485
Tim Bayer
10′
✔
✔
✔
✔
✔
60
15′
✔
✔
✔
✔
✔
✔
115
20′
✔
✔
✔
✔
✔
✔
150
25′
✔
✔
✔
85
30′
✔
✔
✔
✔
✔
160
35′
✔
✔
80
Total
650
League High Scores
| Rank | Name | Date | Score |
| --- | --- | --- | --- |
| 1. | Tim Bayer | Jan 26, 2018, 7:36 AM | 760 |
| 2. | Mike Herzog | Jan 19, 2018, 8:47 AM | 665 |
| 3. | Tim Bayer | Jan 19, 2018, 8:47 AM | 665 |
| 4. | Mike Herzog | Jan 26, 2018, 7:36 AM | 660 |
| 5. | Tim Bayer | Feb 2, 2018, 9:01 AM | 650 |
| 6. | Dave Copp | Feb 2, 2018, 9:01 AM | 570 |
| 7. | Dave Copp | Jan 26, 2018, 7:36 AM | 560 |
| 8. | Tim Bayer | Jan 19, 2018, 10:53 AM | 545 |
| 9. | Mike Herzog | Feb 2, 2018, 9:01 AM | 545 |
| 10. | Mike Herzog | Jan 19, 2018, 10:53 AM | 525 |
| 11. | Tim Bayer | Feb 2, 2018, 8:43 AM | 525 |
| 12. | Dave Copp | Jan 19, 2018, 10:53 AM | 490 |
| 13. | Joe Tascione | Feb 2, 2018, 9:01 AM | 485 |
| 14. | Dan Dancoe | Jan 19, 2018, 10:53 AM | 480 |
| 15. | Dave Copp | Jan 19, 2018, 8:47 AM | 470 |
| 16. | Tim Bayer | Jan 26, 2018, 8:15 AM | 465 |
| 17. | Joe Tascione | Jan 26, 2018, 7:36 AM | 460 |
| 18. | Dave Copp | Feb 2, 2018, 8:43 AM | 460 |
| 19. | Mike Herzog | Feb 2, 2018, 8:43 AM | 430 |
| 20. | Mike Herzog | Jan 26, 2018, 8:15 AM | 410 |
League Point Totals