Description
Save by purchasing this Glow Golf set!
(Note: If you want to substitute the Glo Buzzz for another disc to create your own, custom, UV Light plus disc golf disc bundle, contact us.)
This is what you need to start playing Glow Golf; A Glow disc and a dual function UV and white light flashlight.
This dual function, ultraviolet plus white light flashlight has both a 36-UV LED light bar to charge the disc and a bright, white light flashlight for lighting you way while walking in the dark disc golf course.
Optional Glow Cone Attachment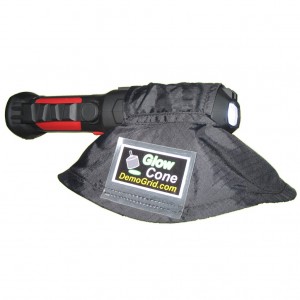 A Glow Cone is an optional attachment for the light. Though there may be other applications, the Glow Cone was designed for use while playing glow disc golf. The UV light bar can energize a glow disc in as little as 3 seconds. When energizing a glow disc, the Glow Cone will block light that is reflecting off of the disc so that the reflecting light does not effect your night time, darkness adjusted vision.
Red Lens To Preserve Darkness Adjusted Vision
When using the light for Glow Disc Golf, it may be helpful to have a red light flashlight because red light is less disruptive to nighttime, darkness adjusted vision. A temporary red lens can be created using clear packing tape and a red marker. Click the video to the right to see a demonstration about creating a temporary red lens for the dual function UV and white light flashlight.
Portable Light Powered By AA Batteries
There are no cords or charging required for this portable, UV and white light, dual function flashlight. The light operates with three AA batteries.
Never Shine Light Directly Into Eyes
Avoid shining the bright light of the flashlight directly into eyes.