When snow is deep, attaching ribbons will help you to not lose your disc.
More Drag:
Ribbons will add more aerodynamic drag, thus reducing the distance you can throw a disc. This is most noticeable for drivers. I hate losing discs. So, for me, trading reduced distance for not losing my disc in snow, is my choice.
I have done a bit of testing with ribbon length, tape attachment method and have used various types of tape. Here is the summary for best results:
Materials:
Spool of 1/4 inch wide wrapping ribbon.

1.88 inch (or 2 inch) wide Black Gorilla tape, Clear Gorilla Tape, or quality Duck tape. Don't use packing tape.

Razor knife, Exacto knife or box cutter.
Summary:
Get disc dry and warm (room temperature, 65 degrees or more).

Use 1.88 inch (or 2 inch) wide tape. Use Black Gorilla tape, Clear Gorilla Tape, or quality duck tape. Don't use packing tape – it does not stick well and tears easily.

Use 25 to 33 inches of 1/4 inch ribbon. Longer if snow is really deep.

Tear or cut tape to make roughly a square.

Cut 1/4 inch slit in center of square piece of tape.

Spilt ribbon, about 1/2 inch.

Slide split end of ribbon through slit in tape, split tape ends and press onto tape adhesive. 

Attach tape to center of disc. Attaching to top or bottom of disc is a matter of preference.
Long Description:
Discs Clean, Dry and Warm
Get discs clean, dry and warm, at least room temperature, before adding ribbons. Note: Attaching tape and ribbons to a cold disc, like on the course or just before you start playing in the cold, will fail. The tape will not stick well to the disc and will fall off.
Ribbon Length: 25 – 30 inches
Cut a length of ribbon for the disc of 25 to 33 inches (or longer for deeper snow). Enough to see the ribbon when it drags behind disc if the disc tunnels in the snow. Too short, and the ribbon will tunnel with disc and you will not see it.
1.88 inch Wide Gorilla Tape or Quality Duck Tape
Use 1.88 inch wide Gorilla Tape or Duck Tape. Packing tape rips easily. Also packing tape does not do well if the disc gets wet  – Don't use Packing Tape. Gorilla tape or Duck tape is significantly tougher and works if it gets wet. Use high quality duck tape (not the cheap stuff), black Gorilla tape or clear Gorilla tape. Standard size, width of 1 7/8″ (1 inch and 7/8); 1.88 inches.
Split End of Ribbon 1/2 Inch
Spilt end of wrapping ribbon, about a 1/2 inch. If you don't split ribbon, stress can more easily tear tape; see "fail" image below.
Cut Square Piece Of Tape, Then Cut Slit In Center
Cut a roughly square piece of Duck tape or Gorilla tape. Using a box cutter, exact knife or razor knife, cut a 1/4 inch slit in the center of the tape.
Insert Split End Of Wrapping Ribbon, Separate Ends
Feed the split end of wrapping ribbon through hole in the center of the tape. Separate spit ends of wrapping ribbon and press on duck/Gorilla tape, pointing the ends of the wrapping tape towards opposite corners of tape, then press in place.
Center Tape, Attach To Disc;  I Attached To Top Of Disc
Center tape on disc (top or bottom) and attach tape on the disc. Attaching to top of disc or bottom of disc is a matter of preference. I had better results finding discs in snow when the ribbon was attached to the top of the disc. When the ribbon was attached to the bottom of a disc, I did notice this: When a disc would spin to a stop in the snow, sometimes the ribbon would coil underneath the disc, completely hiding the ribbon. Should this happen when the disc is under the snow, the ribbon and disc might be obscured and difficult to find. For this reason, it might work better if the ribbon is attached to the top of the disc.
Notes:
In my tests, clear packing tape fell off discs, tore easily and failed miserably, so I did not include any pictures of packing tape fails. The clear tape pictured is Clear Gorilla Tape which works well. Clear Gorilla Tape is rugged and resists tearing significantly better than packing tape. Note – even the excellent performing, clear Gorilla tape (pictured below) and Duck Tape failed more easily from stress if ribbon was not split.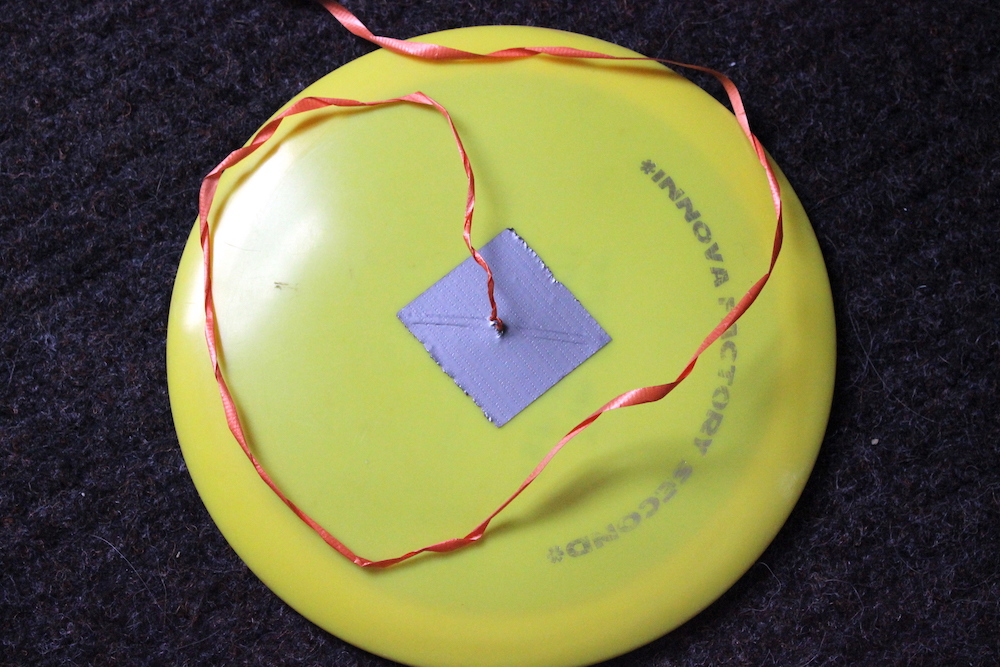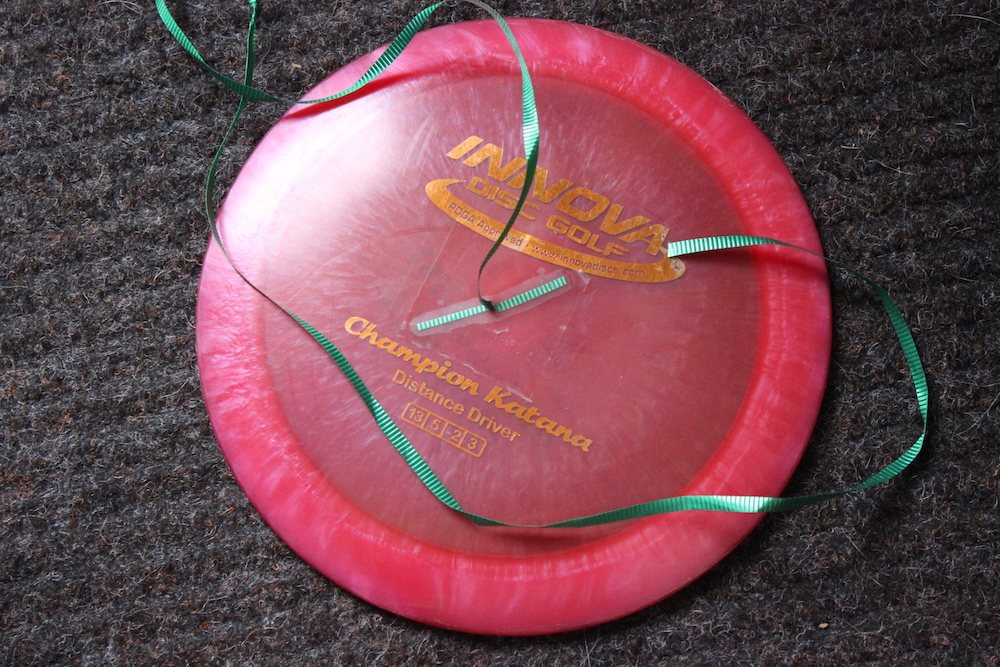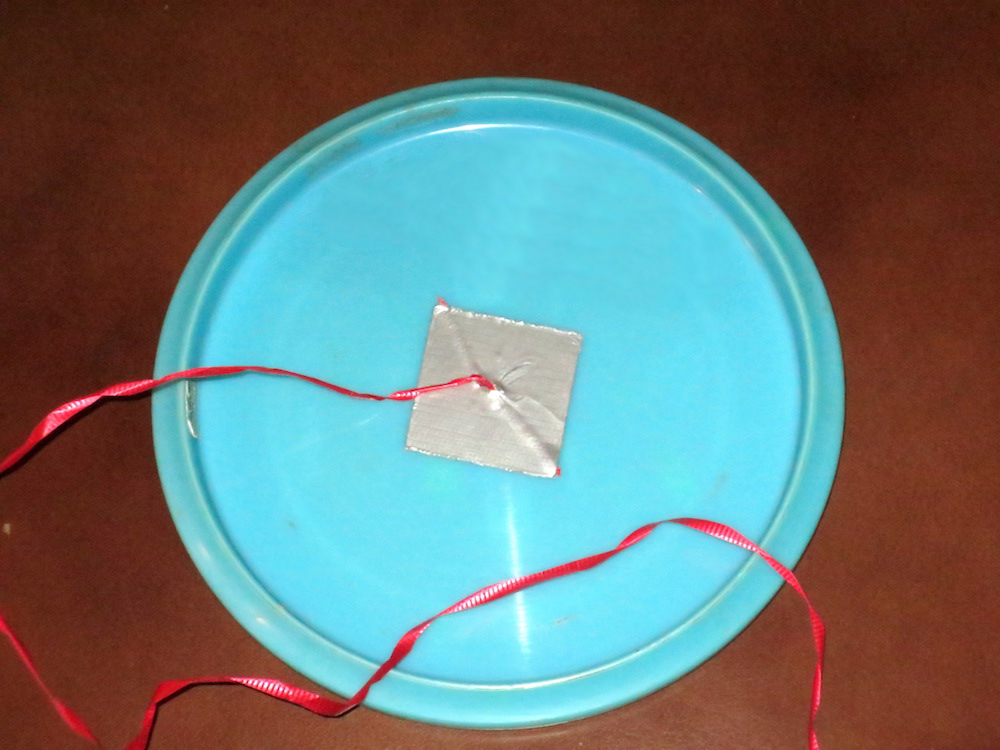 FAIL – Not splitting ribbon will cause stress and allow tape to tear more easily. NOTE: Non-split ribbon caused Duck tape (and Gorilla tape) to tear more easily. Pictured is the clear Gorilla tape because it photographed better and showed more detail of the stress-caused fail.