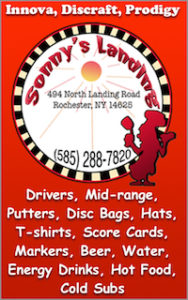 2017 Henrietta Indoor Disc Golf Putting League information.
The 2017 Henrietta Indoor Putting League is sponsored by Sonny's Landing. The 5 week league runs from March 2 to March 30, 2017.
Putting League Scoring Description
Summary:
First putt (#1) and last putt (#6) at a distance earn more points.
Making all 6 putts at a distance earns a bonus.
Longest distance putts are highest value.
Long Description:
Points Are Same As Distance Of Putt
Each successfully made putt has a point value equal to the distance of the tier it is made from (that is, a putt made from 25′ is worth 25 points).
Bonus For First Putt And Last Putt At A Distance
First and last putts also earn bonus points, 5 points each attempt for each of the first four tiers and 10 points in the final two tiers.
Bonus For Making All 6 Putts At A Distance
Completing all six putts from a tier earns an additional bonus equal to the distance. A putting league scoring chart is shown below: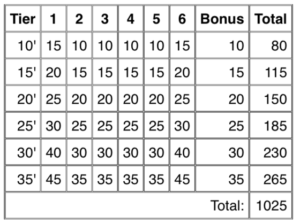 Putting League Results and Stats
Click on the link below to view Putting League results and statistics.