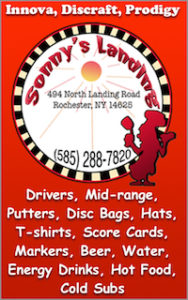 2018 Fall Putting League registration is now OPEN!
New for this season – 18 holes
In November, 2018, I will be running a 5 week, indoor Putting League in Brighton. This year I am taking it up a notch. The baskets, tee pads and obstacles will be configured to provide 18 different holes to play.
Sign up, online or in person
Sign up at the Brighton Parks and Recreation site https://www.townofbrighton.org/220/Recreation-and-Parks, then click on the Register Online button then do a search for Disc Golf in the Filter/Search box, or contact me if you have questions.
Note: The league will be limited to only 24 people. So don't wait to register or you may get locked out.
You can also sign up in person at:
Brighton Recreation and Parks Dept.
220 Idlewood Rd
Rochester, NY 14618
Or you can call the Brighton Recreation and Parks Dept.: (585) 784-5260
2018 Brighton Indoor Disc Golf Putting League information
The 2018 Brighton Indoor Putting League is sponsored by Sonny's Landing. The 5 week league is on Tuesday each week and runs from November 20, 2018 to December 18, 2018.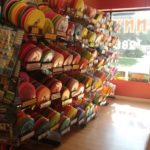 You may win a disc – any disc you choose
Royce Racinowski and Sonny's Landing (http://sonnyslanding.com/) are sponsors and will be donating discs. A disc will be given away each week. It matters not if you have the worst round of putting of your life, the disc giveaway will be by a random chip draw – everyone has an equal chance to snap up a disc! Take the disc voucher to Sonny's Landing and exchange it for ANY disc on the racks in the store.
Putting League Description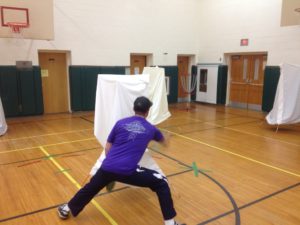 DISC GOLF PUTTING LEAGUE —This indoor league is for anyone with an interest in Disc Golf. If you are new to Disc Golf, this putting league is an excellent starting point. If you already play, this league will increase your putting skills with multiple putting challenges. The baskets and tee pads will be configured to provide 18 different holes to play. We will use varying distances and obstacles to create progressively more difficult and interesting putts. Bring two of your favorite putting discs. This will be a random draw doubles format. Partners will be randomly assigned each week. You may win a disc! Our sponsor, Sonny's Landing, is donating discs. One disc will be given away each week. If you need to purchase Disc Golf putting discs, contact the instructor, Tim Bayer, 585‑678‑1941.
LOCATION: Brookside Recreation Center, Large Gymnasium, 220 Idlewood Rd., Rochester, NY 14618
AGES: 12yrs & over
INSTRUCTOR: Tim Bayer
FEE: Fee: $35 (5 weeks)
DAYS/TIMES: Tuesdays, 6:00 – 9:00 PM
DATES: 11/20/18 – 12/18/18
Minimum: 5
Maximum: 24
Questions?
If you have any questions,  contact me.