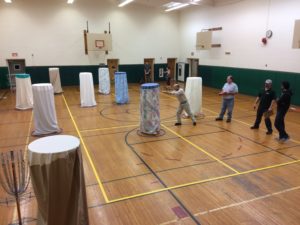 2021 Fall Indoor Putting League Information
The putting league is planned for November, 2021. If there are COVID protocols we have to follow, I will post that information when it becomes available. Surf back in here for updates. Below is a putting league overview. If you want to improve your game before putting league starts, contact me for lessons.
Three rounds of 18 holes each night; 108 putts
The baskets, tee pads and obstacles will be configured to provide 18 different holes to play. We will have obstacles to avoid as well as vertical challenges (putting up to, and then off of the elevated stage) to navigate.
Summary: There are 3 tee spots and lots of obstacles to avoid – left, right and over – at each of 6 baskets. We throw 2 putts at each tee and 3 rounds each week (108 recorded putts). The distances and and layouts change every week. We use a random draw doubles format and partners are drawn before each round.
2021  Indoor Disc Golf Putting League information
The 2021 Indoor Putting League is sponsored by Royce Racinowski and the Flying Disc Pro Shop (Thank you Royce!). The 5 week league is on Thursday each week and runs from November to December  (no league on Thanksgiving).
You may win a disc 
Royce Racinowski and the Flying Disc Pro Shop are sponsors and will be donating discs. A disc will be given away each week. It matters not if you have the worst round of putting of your life, the disc giveaway will be by a random chip draw – everyone has an equal chance to snap up a disc!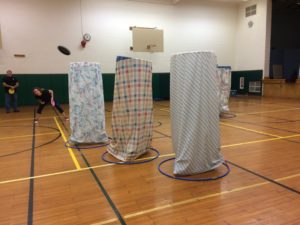 LOCATION: Brookside Recreation Center, Large Gymnasium, 220 Idlewood Rd., Rochester, NY 14618
AGES: 12yrs & over
INSTRUCTOR: Tim Bayer
FEE: Fee: To Be Determined
DAYS/TIMES: Thursdays, 6:00 – 9:00 PM
DATES: To Be Determined
Minimum: 5
Maximum: 12
Questions?
If you have any questions,  contact me.