The first version of DemoGrid Disc Golf Doubles Automatic Scoring is here.
It's FREE. Try it. Test it. Let me know your thoughts.
DemoGrid Scoring is a free, automated, web based Disc Golf Doubles scoring system. Perfect for your disc golf doubles league with COVID-19 social distancing requirements!
This web based, Beta version uses Google Sheets to display information, so that tee assignments, scoring and payout information is available using a smart phone (as well as a tablet or computer). NOTE: This is a Beta release. It is operational but is still being developed. There are some known issues we are working to resolve.
Contact me with questions or to try it!
DemoGrid Disc Golf Doubles Automatic Scoring System Features
It's FREE!

Easy player check-in, mark with an 'x'.

Automatic, random partner generation (no chip draw needed!).

Web based. Players with a Smart Phone can see their partner and starting tee WITHOUT visiting Tournament Central.

Allows player handicapping.

Automatically counts number of players checked in.

Automatically counts number of CTP participants.

Automatically counts number of players that purchased Mulligans.

Allows manual partner assignments.

League Director / Tournament Director can change list of hole assignments based on course.

Automatically calculates payout using team handicap.

Calculates Scratch Score for each player and handicap score for each player. (Useful for tracking player statistics.)
DemoGrid Doubles Scoring Check In Screen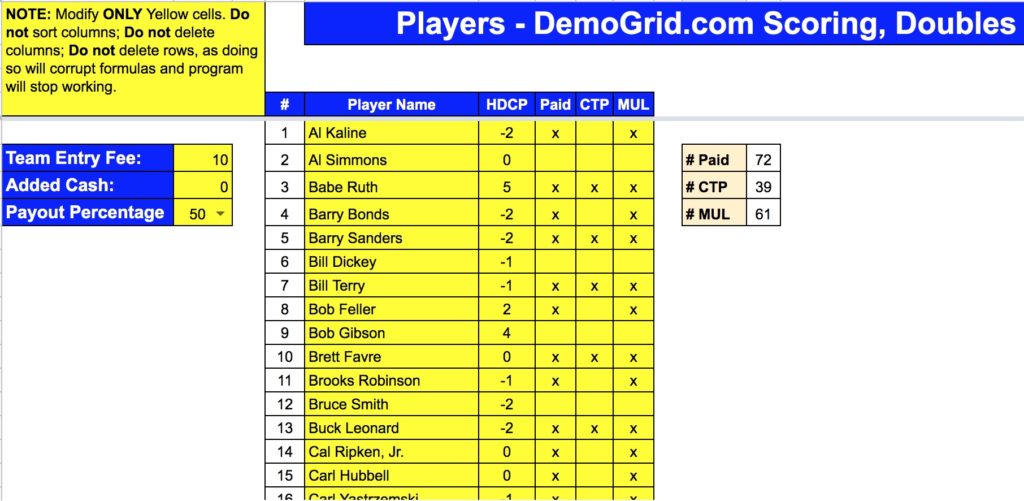 DemoGrid Doubles Scoring Automatic Random Partner Assignment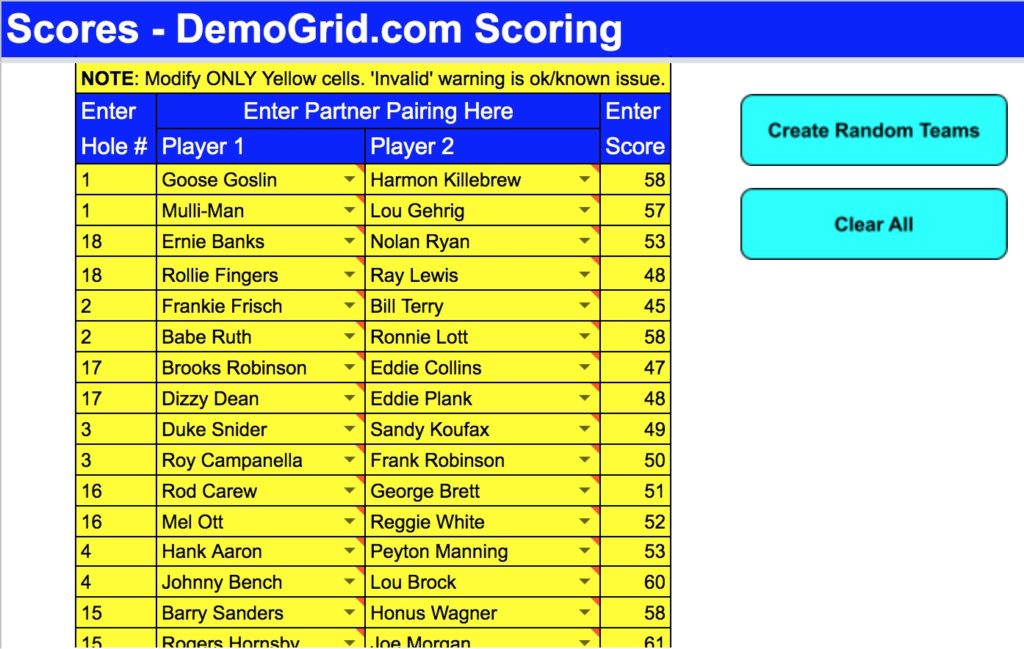 DemoGrid Doubles Scoring Automatic Payout