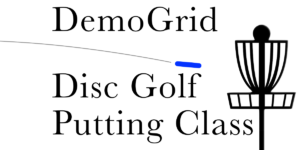 2018 Demogrid Indoor Disc Golf Putting Class 
Get better at putting! Make longer putts and improve your consistency! This class is for anyone that wants to learn to putt or learn to putt better. We will break down your putting technique into the fundamentals and then build (or rebuild) your putting technique to improve accuracy and consistency. Here is the progression of what will be taught in class:
* Stance, balance, proper form, release and follow through.
* Learn to throw flat (non-hyzer) putts.
* Learn when and how to throw hyzer and anhyzer putts.
* Straddle putts.
* How to increase accuracy for long distance putting, 20 feet and farther out.
Bring 4 of your favorite putting discs. If you need to purchase Disc Golf putting discs, contact the instructor, Tim Bayer.
Ages/Grade:    12 yrs & over
Days:                 Thursday
Dates:                December 27 ‑ January 10
Time:                 6:00 ‑ 7:30 pm
Fee:                   $21  (3 Weeks)
Location:          Brookside Recreation Center, Large Gymnasium
Phone:              585-784-5260
Instructor:       Tim Bayer
On-Line Regsitration
Registration is now closed.