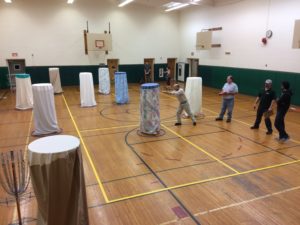 2021 Fall Indoor Putting League has completed. The next Putting League is planned for Fall of 2022. Here is a summary of the Indoor Putting League:
Three rounds of 18 holes each night; 108 putts
The baskets, tee pads and obstacles will be configured to provide 18 different holes to play. We will have obstacles to avoid as well as vertical challenges (putting up to, and then off of the elevated stage) to navigate.
Summary: There are 3 tee spots and lots of obstacles to avoid – left, right and over – at each of 6 baskets. We throw 2 putts at each tee and 3 rounds each week (108 recorded putts). The distances and and layouts change every week. We use a random draw doubles format and partners are drawn before each round.
Sign up, online or in person
Sign up at the Brighton Parks and Recreation site https://www.townofbrighton.org/220/Recreation-and-Parks, then click on the Register Online button then do a search for Disc Golf Putting League in the Filter/Search box. NOTE: There are both a Putting Class and an 18 Hole Indoor Putting League. The League starts after the Class ends and you can sign up for both. But, if you only want to register for one, be careful to insure you have selected the program you want. You can contact me if you have questions.
You can also sign up in person at:
Brighton Recreation and Parks Dept.
220 Idlewood Rd
Rochester, NY 14618
Or you can call the Brighton Recreation and Parks Dept.: (585) 784-5260
COVID-19 Protocol
Only the Winton Road entrance will be used.
Instructors will remain masked at all times.
Participant masks are required to be worn for entry into the building and during the program.
Spaces and any equipment will be cleaned/disinfected between classes.
Instructors and participants must stay home if they are sick or showing symptoms.
Instructors and participants must follow all current travel restrictions.
Brighton Recreation and Parks Cancellation Policy
"If the program is cancelled before it starts, there is a full user credit returned. If program is cancelled after the program starts, all participants enrolled in current classes will be issued a pro-rated user credit for the classes missed at the end of their scheduled session. User credits may be used for future programming as we return to normal operations sometime hopefully in the near future."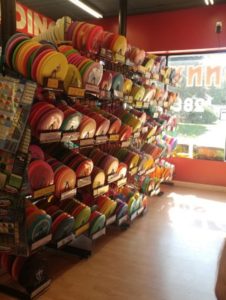 2021 Brighton Indoor Disc Golf Putting League information
The 2021 Brighton Indoor Putting League is sponsored by Royce Racinowski's Flying Disc Pro Shop (Thank you Royce!). The 5 week league is on Tuesday each week and runs from November 9 to December 7, 2021 .
You may win a disc – any disc you choose
Royce Racinowski's Flying Disc Pro Shop is our sponsor and will be donating discs. A disc will be given away each week. It matters not if you have the worst putting round of your life, the disc giveaway will be by a random chip draw – everyone has an equal chance to snap up a disc!
Putting League Description
DISC GOLF PUTTING LEAGUE —This indoor league is for anyone with an interest in Disc Golf. If you are new to Disc Golf, this putting league is an excellent starting point. If you already play, this league will increase your putting skills with multiple putting challenges. The baskets and tee pads will be configured to provide 18 different holes to play. We will use varying distances, elevation change and obstacles to create progressively more difficult and interesting putts. Bring two of your favorite putting discs. This will be a random draw doubles format. Partners will be randomly assigned each week. You may win a disc! Our sponsor, the Flying Disc Pro Shop, is donating discs. One disc will be given away each week. If you need to purchase Disc Golf putting discs, contact the instructor, Tim Bayer, 585‑678‑1941.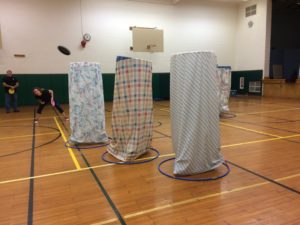 LOCATION: Brookside Recreation Center, Large Gymnasium, 220 Idlewood Rd., Rochester, NY 14618
AGES: 12yrs & over
INSTRUCTOR: Tim Bayer
FEE: Fee: $36 (5 weeks)
DAYS/TIMES: Tuesdays, 6:00 – 9:00 PM
DATES: 11/9/19 – 12/7/19
Minimum: 5
Maximum: 20
Questions?
If you have any questions,  contact me.